Denver (in the US state of Colorado) is a really cool city and there is plenty of sightseeing to do. The Mile High City, as people call it has spectacular views and vistas of the nearby Rocky Mountains. Is driving a Chevy Camaro Convertible through the city of Denver something you'd like to experience?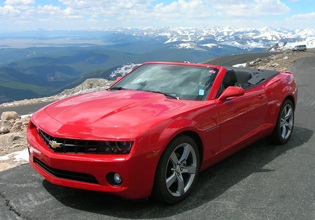 A Camaro is a piece of art and is always a hit with keen drivers. Some can afford to pay for one and enjoy luxury rides and other love to add a touch of style when holidaying or even visiting on business by renting one.
Now, is it possible to rent a Camaro in Denver? It is, but there aren't as many rental agencies as in other cities like Los Angeles or Miami for instance. Renting a Camaro in Denver costs on average $220 per day. The cost will be cheaper when rented weekly and some high street rental agencies have very good options and specials all year long.
The options below have been found by our team if you're looking to rent a Camaro for a day or longer in the Denver area:
Avis
Avis Cool Cars is one the high-street agencies that have Camaro for rent. They have the Camaro SS 2010 on offer but you're welcome to ask for the latest model as they may have it at the time of your enquiry. Avis advise to book early as the model is not always available. Now, this may be one of their marketing tricks but booking early has benefits anyway such as a decent discount.
Also consider booking online to take advantage of further 'web only' specials that can earn you more discounts of up to 25% off standard rates.
To rent a Camaro with Avis, visit http://www.avis.com/car-rental/html/landing/camaro-rental.html
Avis can be contacted on the following numbers:
Rates and Reservations 1-800-331-1212
Customer Service 1-800-352-7900
PaylessCar.com
PaylessCar can provide Camaros for rent in Denver. They do specialize in discounted rentals and have a luxury sections. They don't advertise all their models but can provide you with a quote for the latest Camaro. Just like Avis, Payless.com provides the best quotes when booking early.
They are conveniently located at Denver International Airport, which address is below:
25340 East 78th Avenue
Denver, CO 80249
United States
Tel : 303-342-9444
You can visit PaylessCar.com at http://www.paylesscar.com/locations/denver-den/
Budget
Budget rental agency have the latest Chevrolet Camaro Convertible for rent. Although the quote is not listed, Budget Rentals offers the following:
Use of Coupons
Discounted fare if you book early
Fixed price of the day reserve (payable at counter)
Below is the website address for the Chevrolet Camaro Convertible:
http://www.budget.com/budgetWeb/html/en/cars/guaranteed.html
Alternatively, you can reach the Reservation Service on 800-527-0700
We hope this information has been useful in helping you find a Camaro for rent in Denver, Colorado.  Please let us know by commenting below if you find any other locations where it is possible to rent a Camaro and we'll add them to this post!