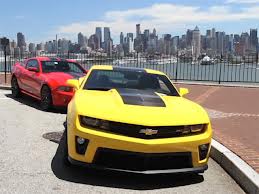 If you are planning a trip to New York and feel like you could add some luxury to your visit, why not rent a Camaro? Forget the yellow cabs and treat yourself! Driving through the streets of Big Apple at the wheel of the latest Camaro will most likely be an unforgettable experience.
Whilst quotes vary depending on which area you rent your car from, the average daily price is around $230 to $300 which is pretty standard for most regions in the United States.  The weekly rate for a Camaro averages $1450.  Below are some agencies we found with Camaro's in New York.
Car Rental Express
Let's start with www.carrentalexpress.com, which is an online broker offering all kinds of vehicles, including Camaros in different area within and around New-York City. You can select each agency according to your location. There is also a list of all the areas where they operate, whether it is SoHo, New York City or La Guardia Airport for instance.
Quotes do change all the time so it's difficult to give you an exact quotes as it may have changed when you enquire. You normally don't find a Camaro for less than $200 a day but some of these agencies run specials and offer discounts on a regular basis. They also team up with other companies and you may be able to get a discount if you happen to be a client of a company they work with.
Of all the listed companies, we found that Empire Rent A Car and Action Car Rental were the most reliable and they have respectively 38 and 20 years experience. You usually can contact them directly through their contact form or by phone and explain your request.
Avis
Avis United States does provide Camaros for rent in New York City. They have the latest Chevy Camaro on offer but these sought-after cars are usually available in limited quantities. Avis advises prospective clients to book early in order to make sure you'll be able to reserve one but also to benefit from their special "early booking" discount programmes.
You can make the reservation online at https://www.avis.com/car-rental/reservation/time-place.ac or contact them directly if you need further information about the rental fees and model of the Camaro you wish to rent. A live chat is also available.
Prestige Car Rental
Prestige Car Rental is another big name in and around New-York City! They provide a wide range of luxury vehicles. This includes a Convertible Range where you'll be able to find Chevy Camaro for rent.
The rate for convertibles with Prestige Car Rental is around $270 daily and $1800 on a weekly basis.  They also offer week-end specials so make sure to enquire before booking.  As an added bonus, they provide free local pick-up and delivery services!
Prestige Car Rental can be contacted via their website at http://www.prestigecarrental.com/luxury-car-rentals
The address of this rental agency can be found below:
New York City Car Rental
W 62nd St, Westside, Manhattan (212) 957-1525
E 33rd St, Midtown, Manhattan (212) 679-4747
Enjoy your time in the big apple!  Cruising over the Brooklyn Bridge in a nice new Camaro is sure to make your hair stand on end.  Don't believe us?  Rent a Camaro for a day and find out for yourself!