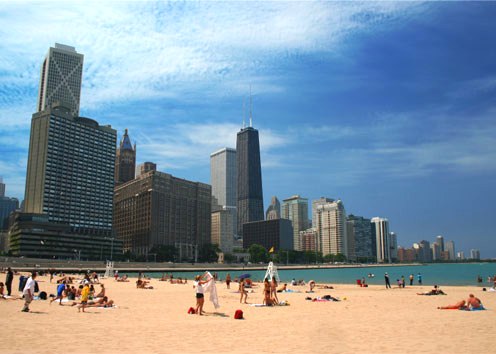 Renting a Camaro in Chicago will take some planning and research.   Your best bet are the national car rental companies like Avis and Budget. Again, you may need to rent the Camaro at the airport, so if you are not coming from the airport, make ride accommodations to get there.
Chicago's main airport is O'Hare International Airport.  The rental car companies at O'Hare International are found near the baggage carousel areas of Terminals 1, 2 and 3. If you are at  Terminal 5 you can call the companies using free telephones; they also offer courtesy buses to their own various collection / return areas.
The following car rental companies are present at the airport:
Alamo
Avis
Budget
Dollar
Enterprise
Hertz
National
Alternatively, you can contact exotic car rental agencies such as FindExotic or ExoticCarRentals to see the availability of the Camaro on your desired dates.  These agencies usually charge a higher price and have more restrictions though , such as the maximum miles you are allowed to travel.
Finally, if all else fails, contact the local Camaro dealership to see if they offer daily rentals. To find the locations of a nearby Chevrolet dealership, visit the Chevrolet website and click on "Find a Dealer" and then enter in your zip code. Some dealerships will allow you to rent a car for a day or so.