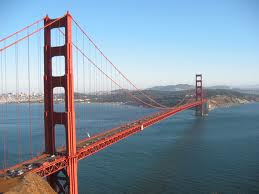 San Francisco is without a doubt one of the most exciting and spectacular cities in America. It has been used as film locations time and time again and is a favourite with tourists. The "city by the bay" offers breathtaking views so why not take advantage of this opportunity and discover Fisherman's Wharf, the Golden Gate Bridge or Point Reyes National Seashore at the wheel of a luxury Camaro?
Yes, renting a Camaro in San Francisco is possible even though there are fewer specialized rental agencies than in Los Angeles for instance.  The best option remains the high-street rental agencies. It is best to get in touch via their website and their customer service contact forms to check whether they have Camaros for rent when you visit.
Below is a list of those agencies where you can rent a Camaro and drive up the Pacific Coast Highway in style.
Avis
Avis is the best agency for renting a Camaro in San Francisco.  The latest Chevy Camaro SS can be yours for rent but quotes aren't published. This said, the average price per day for a luxury car in San Francisco when we contacted Avis was around $250. Hiring the vehicle for a week would come cheaper.
Avis has numerous rental locations and the most popular remains San Francisco International, which address is below:
Avis
780 McDonnell Road
San Francisco, CA, 94128, US
(1) 650-877-6780
Location Code: SFO
Alternatively, visit their website to make a reservation.  Avis offers discounts and online rates are usually lower.
Dollar Car Rentals
Dollar can provide you with a quote for a Camaro but enquiries must be made via their website.
Daily rates were quoted between $250 and $300 depending on the day of the week and time of the year (e.g. if it is near a holiday weekend, or over summer vacation).
Enterprise Rent-a-Car
Finally, Enterprise Rent-a-Car sometimes have Chevy Camaro available but they don't advertise the quotes. However, the quote for a Camaro in San Francisco didn't exceed $300 a day when we contacted them.
This nationwide rental agency has a great customer service, which is available on 1-800-264-6350.  They have a branch at the (SFO), San Francisco International Airport, which address is below.
Enterprise Rent-A-Car
SAN FRANCISCO INTL ARPT
780 MCDONNELL RD
SAN FRANCISCO, CA 94128-3103
The next time you're in San Francisco, why not do it in style in a Camaro! Hopefully this helps you achieve that dream!  Let us know if you find any other good deals in SanFran and we'll get them up here ASAP!